MILWAUKEE, WISCONSIN
Hart Appliance Repair is located in the city of Milwaukee, the county seat of Milwaukee County. You will see our service vans driving through the heart of downtown and out in the suburbs of West Allis, Whitefish Bay and Wauwatosa. We offer professional appliance repair for homes and businesses in Milwaukee, including same-day service near our office. Call for availability.
We prepare our technicians for all possible repairs. Our local appliance repairmen receive education, training and experience to repair refrigerators, washers, dryers, ovens, dishwashers, freezers and more! And our vans are loaded with all of the necessary manufacturer parts to ensure the job is done on-time and done right the first appointment.
In need of our services today? Hart Appliance Repair is ready! You name the brand. We can fix it! Our technicians will repair Frigidaire, GE, Bosch, LG, Sears, KitchenAid, Maytag, Whirlpool, Sub-Zero refrigerators and all major appliance brands. We can even repair the latest models with smart technology!
CALL TODAY: (414) 206-6009
Located in Milwaukee? We offer the following appliance repair services:
MILWAUKEE REPAIR SERVICES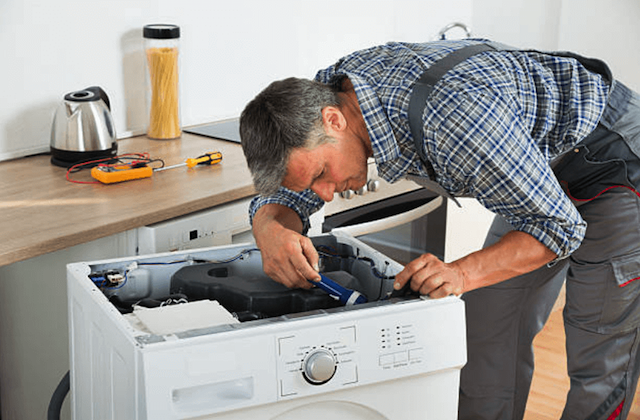 REFRIGERATOR/FREEZER REPAIR
Hart Appliance Repair is the best refrigerator repair service in Milwaukee. We can fix all residential and commercial models and major brands. There's no refrigerator problem we can't repair. Our technicians understand how to address broken bulbs, doors, ice makers, water dispensers, touch panels, smart technology, condensation issues, leaks as well as thermometers and cooling problems.
WASHER/DRYER REPAIR
You handle the laundry. Leave the washing machine repair to us. Our repairmen can fix washer and dryer issues as part of our same-day service. Our standard repair service addresses issues with excessive vibration, agitation, door closure, loud noises, wet clothes, smelly clothes, poor draining, burning smells and dryer vents. All washer and dryer repair includes a 12-month warranty on parts and labor.
RANGE/STOVE/OVEN REPAIR
Hart Appliance Repair can help homes and restaurants in Milwaukee with our stove and vent hood repair service. Our repairmen are trained to fix residential ovens and stoves as well as commercial units found in restaurants, hotels and other properties. We repair burner troubles, loud noises, control panels, pilot lights, ventilation and other issues on gas and electric models.
DISHWASHER REPAIR
We're the company to call for dishwasher repair! Our technicians fix more dishwashers than any other type of household appliance. It's true! We can repair problems causing cloudy glassware, dirty dishes, odors, poor draining, leaks, control board malfunctions and more.
CALL TODAY: (414) 206-6009
For more information on our services, please visit our homepage.
CUSTOMER REVIEWS

"Hart Appliance Repair has saved our business on multiple occasions with their commercial oven repair. Were it not for their professional repairmen, we would have had to close for weekend dinner service on multiple occasions. You can rely on them to arrive on-time and fix any problem fast!" – Jim K., restaurant general manager

"Greg Hart, the owner's son, came to my home to repair my refrigerator. He was very friendly and knew just how to fix the problem. Great service!" – Bonnie L.

"The dishwasher started overflowing in the kitchen in our apartment! The landlord didn't answer so I called Hart Appliance Repair. They arrived and fixed the problem all before our landlord called back. Such fast service!" – Calinda S.
MILWAUKEE LOCATION
LOCATED: MILWAUKEE, WI
PHONE: (414) 206-6009
SERVICE AREA
Wisconsin (WI) state has several cities and Milwaukee is the largest of them. Milwaukee accommodates 595, 351 people. Chicago has the highest population in the Midwest, followed by Milwaukee. The name Milwaukee means good or pleasant and the area is indeed as beautiful as its name.
Milwaukee is involved with a lot of manufacturing. The manufacturers located in Milwaukee are among the best in America and they deal in a variety of things such as manufacturing instruments for medical diagnosis, malt beverages, producing machines for mining, and machines used in offset printing.
Milwaukee, WI, is home to at least 600, 000 people. The city has had a slow growth over the years. Milwaukee, WI, accommodates people of different ethnicities.
Milwaukee, WI is one of those places where you will never lack something cool to do. If you love to have fun then you will definitely love Milwaukee, WI. If you have ever heard of Milwaukee city then you may have heard of something to do with brewing. This is a tradition that started with the German immigrants and has continued to date. There's a lot of festivals and partying that goes on in the city. You can enjoy an iconic Wisconsin beer anywhere in Milwaukee.
For years, Wisconsin has been one of the best beer states in the United States (top ten) and this is something that attracts many people to the region. 11% of the malt beverage comes from Milwaukee. Some of the beers you will enjoy in Wisconsin are not available in other places in America. Therefore, you better enjoy them while you are there. However, you will be surprised to realize that there are numerous activities you can enjoy in Milwaukee, Wisconsin that is not related to drinking.
Kayaking is a fun activity that both the residents of Milwaukee, WI and visitors enjoy. Have you ever been to a city that has a water source passing through it? This is a perfect description of Milwaukee, WI. It has a river which allows people to experience kayaking. You simply get on a kayak or canoe and then paddle through the river.
Lakefront Brewery is just nearby and you can have lunch and drinks there after kayaking. If you like cycling then you'll have an opportunity to do that in Milwaukee, Wisconsin. One of the best things about it is that this is an activity you can enjoy free of charge. All you need is your bike and you will go through the Oak Leaf Trail. The place is marked so you will not get lost and it goes through the county.
If you don't have a bike then you shouldn't worry because there are many places where you can rent one and they are located along the trail. You can engage in rock climbing at the 'Adventure Rock'. The place is a gym that allows people to do rock climbing indoors. As long as you are over 18, you can go there to meet new people and to have fun. If you love art then the Milwaukee Art Museum is a place you need to visit when in the area.
Milwaukee, Wisconsin is a place that you should at least visit and have fun or better still, live there and keep the fun going. It is a manufacturing city with people who know how to work hard and play hard.